EVERY PERSON'S JOURNEY IS UNIQUE
The service honoring their life should be just as special.
Our team will work with your family to design a meaningful service that highlights your loved one's accomplishments, passions, hobbies, or beliefs.
IDEAS TO PERSONALIZE THE SERVICE
Ethnic Traditions
The Bay Area is a rich tapestry consisting of many beautiful cultures and traditions. One of the greatest joys of the work we do is building a team that can understand and identify with the needs of all of our neighbors. Learn more about our services here.
Receptions
At all of our locations, we are able to help you plan a gathering with food and drink for over 70 guests at our modern and spacious facilities. You are also able to customize the menu to share beloved family recipes with your guests.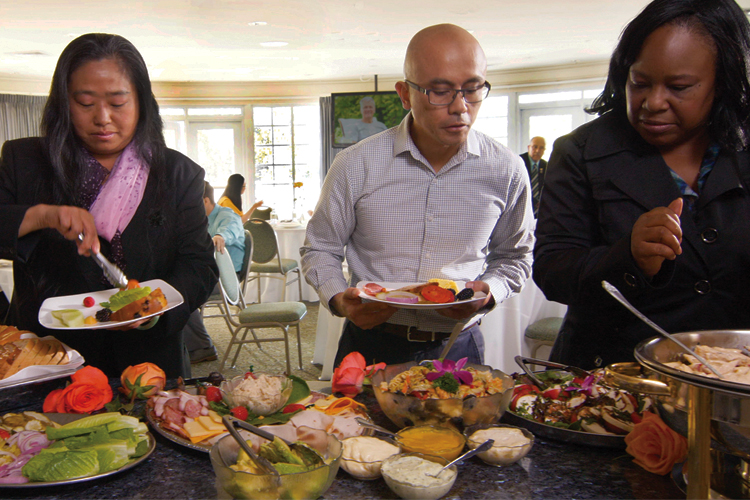 Livestreaming
We know how important it is for all of your family members and friends to attend a service, but sometimes that isn't possible due to the expense of travel or health concerns. At Cypress Lawn, we offer livestreaming so your loved ones can watch any service from the comfort of their own home.
Floral Options
Express condolences to your family or friends by sending a floral tribute. Flowers are a beautiful way of showing your compassion and sympathy for those who are going through a difficult time. They are a beloved reminder of hope and new life. Browse the selections Cypress Lawn has available in our online floral store.
Other Ways to Personalize
---

Military Honors
---

Candlelight Service
---

Eulogies
---

Live Music
---

Limousine Service
---

Memory Table
---

Thumbprint Jewerly
---

Printed Memorabilia
---

Butterfly Release
---

Dove Release
---

Graveside Service
---

Video Tribute
---
---
Keep in mind: If what you have envisioned for your loved is not listed here, please ask our team of professionals for assistance. We know you want every detail of the service to be perfect, and we will help you in any way we can to accommodate your family's specific needs.